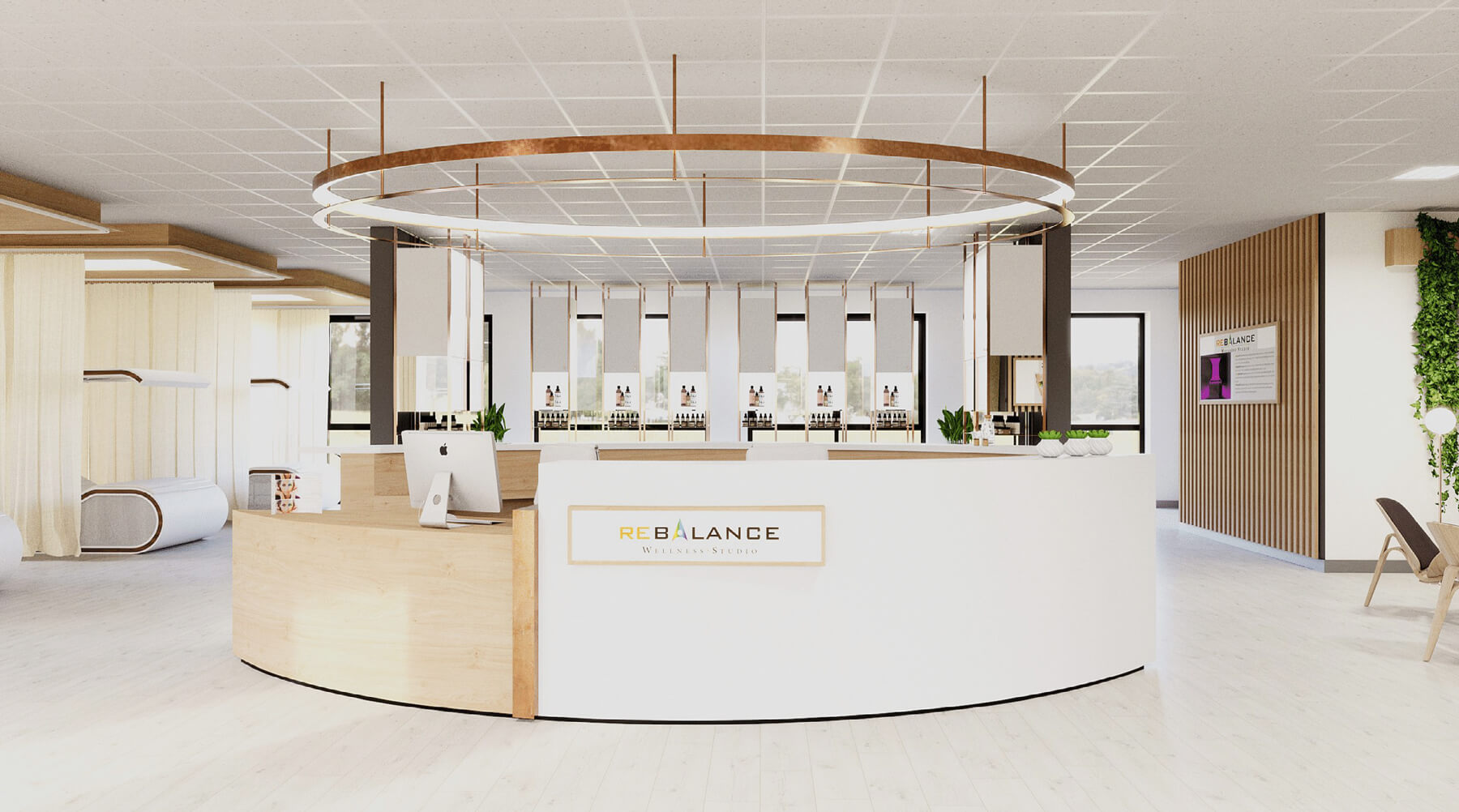 REBALANCE® WELLNESS STUDIO (RWS) is an exciting and meaningful professional project.
Exchanges with customers about the benefits they experience and the results obtained are a permanent source of personal enrichment, professional satisfaction and joy for all employees involved in the operation of a REBALANCE® WELLNESS STUDIO. 
REBALANCE® WELLNESS STUDIO can be implemented in shopping centres, hotel-resorts, business centres or city centres.
Each REBALANCE® WELLNESS STUDIO includes three to seven REBALANCE® Impulse with full option of Neurofeedback, Biofeedback and Feelingback®.
REBALANCE® WELLNESS STUDIO requires, depending on the number of machines (from 3 to 7), a space of between 70 and 250 m², the concept is perfectly suited for transforming beauty salons and tanning salons.
The 3-machine RWS formula is particularly relevant for the creation of a neighbourhood establishment, created and operated by an investor/manager. It is also consistent with an implementation in an existing MedWellness destination (spa resort).
The RWS 5 and 7 machine formulas are intended for large shopping centres and business areas providing accessibility to the corporate clientele in the form of a voucher contract.
The relationship between REBALANCE® Tech and the investors/operators of a REBALANCE® WELLNESS STUDIO is governed by a franchise contract. This contract guarantees that the interests of the franchisee and the franchisor REBALANCE® Tech are continuously aligned. It includes all the services and tools necessary for the operation:
For reconverting a beauty salon or tanning salon, a REBALANCE® WELLNESS STUDIO can be set up quite rapidly, it takes only 6 working days to install all the equipment, fittings and furnishings (REBALANCE® Impulse units, advertising totems, signs, boutique fittings, carpet, wall stickers, POS advertising kit, etc.).
This short lead time is a considerable advantage for investors/operators within the context of a reconversion, because the closing period between the two activities is very brief.
This closing period can be used to train the staff on the REBALANCE® WELLNESS STUDIO operating procedures. This training is included in the franchise contract.
The procedures for operating a REBALANCE® WELLNESS STUDIO do not require any special technical knowledge, only organizational qualities and an ability to welcome and sell remain necessary.
3 to 4 employees (including part-time) are sufficient to operate a
REBALANCE® WELLNESS STUDIO.
Within the context of a beauty or tanning salon reconversion, all personnel can rapidly become operational for all tasks related to the REBALANCE® Impulse experience and customer relationship management.
A reminder that for each REBALANCE® Impulse session, only 3 to 5 minutes of staff presence is required on average (to welcome the client, start the session, show the client out after the session, and clean the equipment).
This is a similar amount of time required per session in a tanning salon, but much less than for a massage or cosmetic treatment that requires staff to be present for the full duration of the treatment.
HIGH PROFITABILITY BUSINESS
This
RE

BALANCE

®

WELLNESS STUDIO
concept performs very well in terms of profitability (Gross Operating Profit). The operating margins are much higher than for a conventional spa or beauty salon.